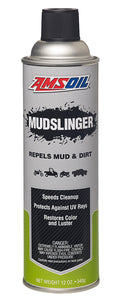 Product Highlights
Mudslinger® (AMS) provides a protective, non-stick layer of armor against the accumulation of mud, dirt and snow on ATVs, UTVs and dirt bikes. It makes removing mud and dirt with low-pressure water easy while protecting against UV rays and keeping equipment looking pristine.
Performance Features
Provides a protective layer of armor against mud, dirt and snow
Eases clean-up after riding
Restores, cleans and shines plastic, fiberglass and painted surfaces
Provides a protective layer to counteract the damaging effects of UV rays
Pleasant cherry scent
Directions
Make sure surfaces are clean and dry before applying.
Shake well.
Spray evenly and liberally on desired surfaces. DO NOT SPRAY ON PEDALS, SEATS, BRAKES OR BRAKE ASSEMBLIES.
Allow to dry for 15 minutes. Wipe off excess with a lint-free microfiber towel for a brilliant shine.
For an extra barrier against mud and snow, leave wet and do not wipe.
Note: When left wet, product may attract dust.
AMSOIL PRODUCT AVAILABILITY
AMSOIL Mudslinger is available in 12-ounce spray cans.
AMSOIL PRODUCT WARRANTY
AMSOIL products are backed by a Limited Liability Warranty. For complete information visit www.amsoil.com/warranty.aspx.
Disposal
Aerosols may have different disposal requirements than other wastes in your area. Dispose of contents and container in accordance with all federal, state/provincial and local regulations.