Collection:

Rugged Radio 2 & 4 Place Intercom Kits
The intercom is the "hub" of your communications providing connectivity to headsets or helmet kits to you and your passengers. You can connect your iPhone or MP3 player to stream music, connect a 2-way radio to talk with other vehicles, or enjoy the features of a VOX intercom for auto-music muting when you speak. Systems are offered with helmet kits, behind-the-head headsets or over-the-head headsets.
Is this your first intercom system? Not sure what headset type you want? It's easier than you think. A "Behind-the-Head" (BTH) design features both a headband that goes behind the head and a velcro strap that goes over the top of your head. This is popular because the dual support provides more stability in rough offroad environments. "Over-the-Head" (OTH) headsets offer the same performance but in a different style. It's simply a matter of preference.
If you love the idea of a BTH headset, but you live or ride where helmets are required, you may want to opt for the DOTapproved Simpson OTW helmet. This 1/2 helmet is specifically designed to work in conjunction with BTH headset to keep you legal.
RRP362-BT Bluetooth Intercom System with OTU Headsets and V3 Radio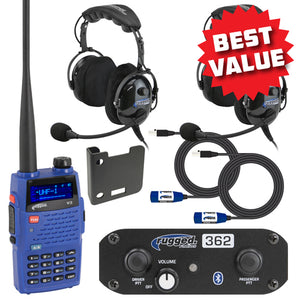 RRP362-BT Bluetooth Intercom System with BTU Headsets and V3 Radio