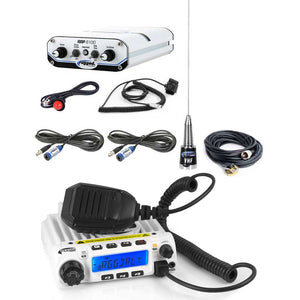 Part #

6100-2P-RACE-60W
This complete racer package features a RRP6100 Race Intercom System and 60-Watt Car-2-Car system that connects to your existing helmet kits. This latest edition to our race packages offers incredible radio power boosting your transmit range between 20-30 miles with the Rugged Radios RM60-V.
Featuring our top of the line RRP6100 race intercom, this kit provides the most feature packed race setup available to achieve clear communication in the harshest environments.

The key component that sets the 6100 intercom apart from the rest is the ability to turn Side Tone on or off. Side Tonedramatically reduces background noise, allowing the driver and co-driver to communicate more clearly.

Additional features include a Driver Isolateswitch. When turned "ON", all radio communications are directed to the co-driver, allowing the driver to focus on driving.
Dual volume controls allow independent volume adjustments for driver/co-driver. An internal amplifier gain allows the audio levels to be adjusted for any race application. Whether you have ear buds, low ohm or high ohm speakers, the audio levels can be set for your personal preference.

The RRP6100 Race kit includes driver and passenger PTT's for easy radio communication. The rear AUX port provides a wide range of additional options including: music, smart phone connectivity, GoPro cameras, GPS, or satellite phones. Rugged Quick Lock adapters and jumpercables are sold separately.

The RRP6100 Intercom delivers powerful performance on a competitive level. Developed for extreme offroad race vehicles, the RRP6100 is the intercom for Trick Trucks, Class 1, Chase Vehicles, Ultra4, and even UTV's.
Versatile and feature packed — the RRP6100 combined with the RM60-V is the ultimate race system. Works with all offroad PCI Race Radios, RacerX, Parker Pumper, and MRC Mobile Radio Communications pre-wired helmets.
Complete Kit Includes:
(1) RRP6100 Desert Race Series 2 place intercom
(2) 12ft Offroad Intercom Cables
(1) Velcro Mount PTT
(1) Hole Mount PTT
(1) 60-Watt Mobile Radio
(1) VHF 1/2 Wave Spring Antenna
(1) Coax Cable
RRP6100 Intercom Features:
• 2 place intercom with dual 3.5 watt amplifiers
• Switchable Side Tone (on/off)
• Driver Isolate switch (on/off)
• Independent driver/co-driver volume control
• Interface to satellite phone, smart phone, GPS, in-car cameras and XM radio
• Power transmit LED and Stuck Mic Indicator,
• Total Shield extruded housing
RM60-V Radio Features:
• 60 Watts of power
• 20-30 mile range
• 200 programmable channels
• Dozens of preprogrammed off-road channels
• DCS/CTCSS tone code capable
• Channel scan
• Adjustable squelch
• Channel edit
• Tone code scan
• Adjustable power level
• Keypad lockout
• Hand mic
Does not Include Key Pad Handmic
• Vehicle voltage indictor
• Time-out-timer
• Busy channel lockout
  
Options:
This intercom can be equipped with optional DSP Chips (Digital Speech Processors) which dramatically eliminate background noise while re-sampling your voice, delivering clearer voice communications. Click here for DSP product details. Please note, the RRP6100 requires (2) DSP Chips. If you wish to add DSP Chips to your intercom, select that option below and we'll waive the $50 installation fee!