Collection:

Twisted LED Whips
Light up the night with insanely bright, super strong LED whips.  Our whips are the best on the market.  All come with a 1 year no hassle warranty, directly from the manufacturer.
Twisted LED whips are believed to be the brightest on the market.

Designing an electronic circuitry that can endure the abuse of the off road community takes knowledge and experience. Our circuitry boasts a number of design elements that make our whips the most durable and capable of accepting the high vibration loads, and poundings of the off road trails. And they're made from the highest quality materials and assembly practices.

Each lighted whip come with a machined billet aluminum mount, that's been hard anodized, and completed with all stainless steel hardware. The mount allows you to install and remove the whip without any tools. 
Twisted LED Single Whip Kit in Various Sizes and Colors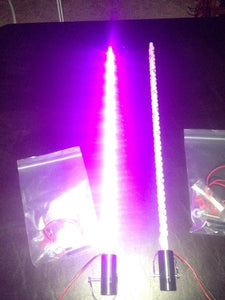 Twisted LED Dual Whip Kit, Various Sizes and Colors