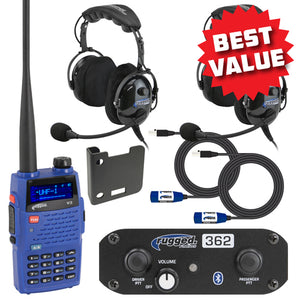 Part #362-2P-OTU-V3
The ultimate, affordable, Bluetooth intercom system providing clear communications between driver and co-driver. Simply pair your device to enjoy music on your ride!
Features include a simple master volume control and built-in Push-to-Talk buttons to transmit out over the 2-way radio (not required for in-car communications). The "live mic" operation provides constant and hands-free communication between driver and co-driver to hear every detail of the conversation.
The V3 Handheld Radio connects easily to provide two-way radio communication to base camp and other vehicles also equipped with a 2-way radio.
Take comfort to a whole new level with the Ultimate Headsets featuring superior comfort with gel ear seals and washable cotton cloth ear covers.
Designed to be the most affordable intercom available, the RRP362 gets you out talking in no time.
Intercom Features:
• 2-person communications (not expandable)
• Bluetooth smart phone connectivity for music streaming
• Front Mounted Push-to-Talk Buttons (for two-way radio)
• Simple volume dial operation
• Universal 2-way radio connection
NOTE: PTT's are built in. You cannot add external PTT's to this intercom.

Kit Includes :
• (1) RRP362 Intercom
• (1) V3 Dual Band Handheld Radio
• (1) Single Side Radio Mount
• (1) Radio/Intercom Cable
• (2) Ultimate OTH (Over-the-Head) Headsets
• (2) 12' Intercom Cables