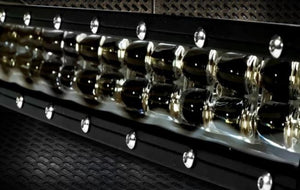 Introducing the Fukawee Off-Road LED light bar.  This light bar provides two rows of 3-watt emitters in basically the same footprint as most single row light bars.  These light bars are some of the toughest and brightest in the industry and backed by a 5-year warranty.  The patented lenses provide an extra 30-40% lumen output, projecting a far greater distance versus standard 3-Watt emitters.  
3-Watt Philips LED Light Emitters 
6500K Color Temperature
Clear Lexan PC Shatterproof Lens
Patented Olive Shaped Lens
10V-30V DC
IP68 Certified, Waterproof.
CE/RoHS Certified
Die Cast Aluminum Alloy
Anodized Polyester Powder Coating
Working Temperatures from -40 to 85 degrees Celsuis
50,000 hour life span
5-Year warranty
36W      LED-SD-36w-S      8" 
48W      LED-SD-48w-S      9.5" 
72W      LED-SD-72w-S      14" 
120W    LED-SD-120w-S    22" 
180W    LED-SD-180w-S    32" 
240W    LED-SD-240w-S    42" 
288W    LED-SD-288w-S    50" 
300W    LED-SD-300w-S    52"